Optimol Instruments Pruftechnik Gmbh
The SRV® 5 test system: The standard for innovation in tribological model testing
With 50 years of experience in tribology, Optimol Instruments Prüftechnik GmbH is the pacesetter for technological advances. As the developer and manufacturer of the world's leading SRV® test system, Optimol sets the standards for innovative solutions in tribological technology. This system came into being in 1965 as the development tool of a manufacturer of special lubricants in Germany. Decades of experience in analyzing application problems and an extremely close relationship to daily practice have gone into the development of the system.
Today, Optimol Instruments provides an extremely flexible and easy-to-use technology platform comprising the SRV® 5 test system product family and the 2disk test rig. With state-of-the-art technology and complete single-source infrastructures, it represents the effective industry standard for investigating friction and wear in a model testing environment.
Component testing on the SRV® 5:
Thanks to numerous innovations, the SRV®5 is a link between model testing and the test bench. It is perfectly oriented to your current and future development needs by enabling both test in accordance with DIN, ASTM and ISO standards and application-based tests. Components from series production are easy to install due to the enlarged test chamber and customized holders.
Internationally active
Optimol Instruments Prüftechnik GmbH is present on all continents in renowned research and development departments of OEM's in numerous industries as well as in research institutes and universities which deal with lubricants, additives, materials development and quality assurance.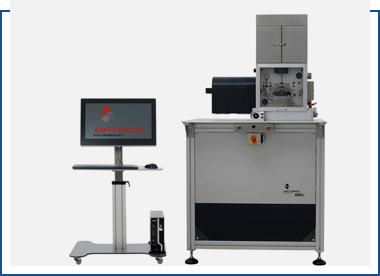 SRV® VAC Vacuum Chamber
X-AT High Pressure and Hot Steam Chamber
Test variables of the SRV® 5 Rotation Module:
Speed 0 – 2000 [rpm] (higher speed is possible for special test setups)
Radius/Y-axis 0 – 50 [mm]
SRV®5 Test System
Standard Test Chamber
Test variables of the SRV® 5 Oscillation System
Test load: 2500 [N]
Stroke: 0.1 – 5 [mm]
Frequency: 0.01 – 500 [Hz]
Temperature: -45 – 1000 [°C]
Test duration: up to 999 h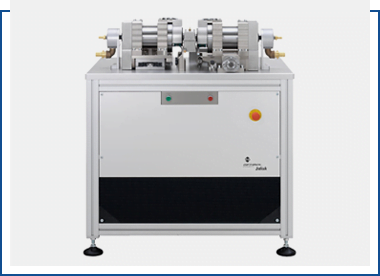 2disk Test Rig
Test variables of the 2disk test rig
Speed: up to 3000 [rpm]
Normal force: up to 5000 [N]
Variable slip
Test duration: up to 999 h
Exclusive Benefits
SRV® technology represents 50 years of experience
State-of the art technology:
FPGA Electronics with up to 10 multi-embedded CPUs
Specially developed platform software designed for processing enormous data volumes
The SRV®5 control electronics and data aquisition are designed for operation at 500 kHz. Due to the high data storage demand the system is operated at 100 kHz during normal service.
Maximum data acquisition rate: 100.000 measured values per second
A time stamp is generated for each measured value. The synchronicity of all values measured during a test is guaranteed.
The development of n-RAI radionuclide wear measurement technology has opened up the possibility of applying RNT analysis methods in the model test environment of the SRV® test system for the first time.
Simulation options:
Flexible installation of components thanks to a large test chamber
Combi-Drive:
Integrate oscillation and rotation in one test setup
Investigate two tribological contacts in one test setup parallel to each other
Efficiency through automation:
Automatic positioning of test specimens with A-POS
The A-FA formulation assistant allows testing of additive effects of up to two substances during the testing process
Automated calibration device
Optimol Instruments offers complete single-source infrastructures:
Quality assurance system
Development of DIN, ASTM and ISO standards
Standardized test specimens
Test results with precision information
Calibration procedures and results
Service and repairs